Learning by doing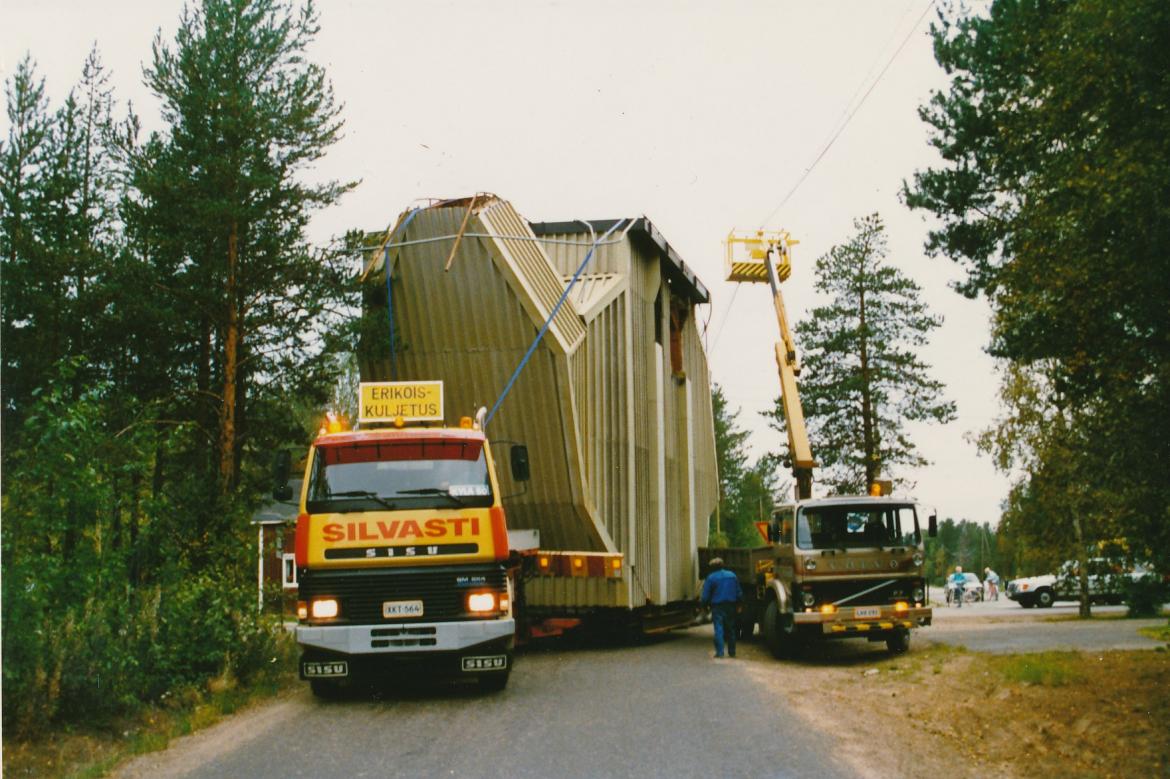 These days, more and more people start their careers as entrepreneurs through school. There is still no special school for special transports, however, which means that you have to learn the job by doing – sometimes the hard way. Silvasti has been accumulating special know-how for nearly fifty years. It hasn't always been easy, but even the most difficult of problems have been solved with quick wits and persistence. The bar has also risen higher and higher.
Quick wits have truly been needed.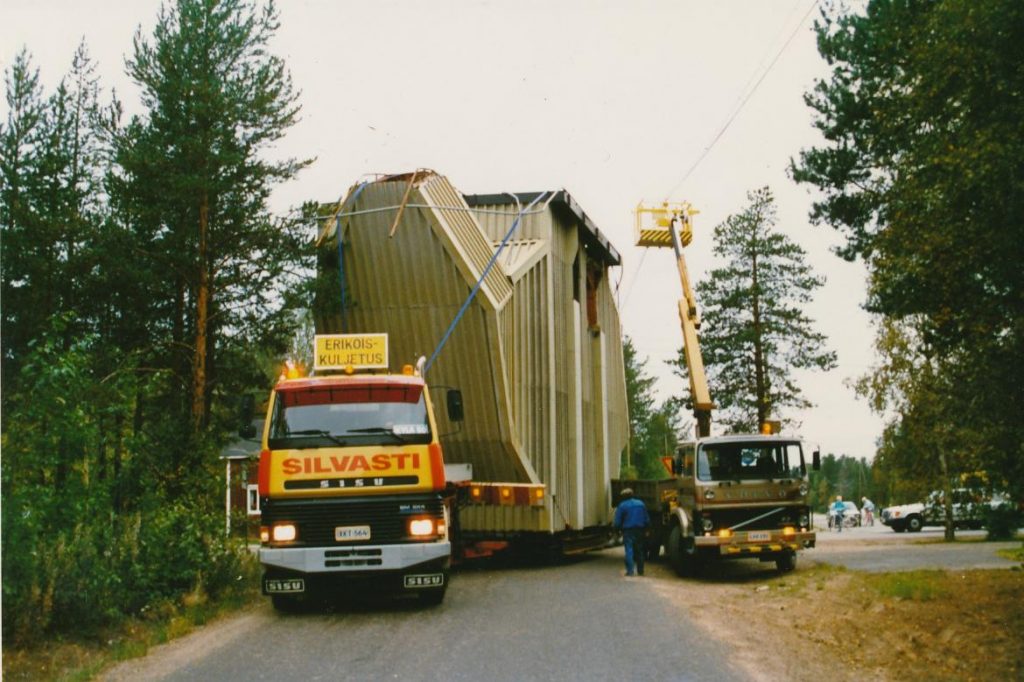 #House in Siilinjärvi
A detached house in Siilinjärvi needed to be moved elsewhere because of the mining work done nearby. But how do you get a house on the trailer? Jukka came up with the idea of hiring a contractor to dig a -sized tunnel underneath the house, so that the trailer could be backed up into it. It took more than one try, however, as the heavy load and soft ground caused additional problems.
In the end, they managed to get the house on the trailer and get it moving. Passers-by couldn't believe their eyes when they saw that a beautiful house had appeared right in the middle of a familiar field.
As the name suggests, special transports are all about moving something special. Throughout its history, Silvasti has transported concrete beams, rails, paper machine rolls and frame structures, wind turbine parts, transformers, ships, crane parts, various earthmoving machines, industrial tanks and boilers, oil refinery tanks, Miina Äkkijyrkkä's Sonni sculpture, houses, bridges, ferries, mining machinery, crushing plants, pile drivers, airplanes…
#The Rönni bridge
In the 1980s, the people in the village of Mietaa in Kurikka got tired of waiting for the public sector to do something about the village's bridge problem, so they decided to purchase the Rönni bridge in Orivesi themselves. Thus it was proven that even bridges can be transported.
It was slow going, however. As soon as the truck left Rönni, the corner of a barn got in the way. Silvasti's carpenters removed the barn's gutters from the bridge's path and repaired the corner of the barn, making it better than new, and the truck was able to continue on its way towards Ostrobothnia. Telephone lines also caused problems: they gave way, but got all tangled up. It took some time to untangle them, but in the end, the load made its way to Kurikka as planned.
Even today, telephone lines have to be moved or lifted to make way for special transports. Hydraulic systems can also be used to tilt or lower the transport to get it past the lines.
#Hilden's ships
Hilden from Jyväskylä purchased two ships from Germany, which Silvasti promised to transport from Mäntyluoto to Lahti. The transports were challenging because of their size and weight.
Telephone lines caused problems and congestion, as they had to be moved aside. A very eager local police officer responsible for road safety stopped all road traffic because of the Silvasti transport. Passenger cars could have gone past the transport, but all traffic was stopped just in case. This naturally caused emotions to flare up among the busy travelers on the road.
Finally, Jukka intervened and said to the officer: "We're making fools of ourselves here, and so are you!" We don't know how the officer replied, but the passenger traffic was able to continue on its way again.
—
Even though the know-how for special transports is acquired on the road, you need to have a solid foundation on which to build this expertise. Both Jukka and Ville are motorists through and through, and they seem to understand cars, transport equipment and motors better than the rest of us. Jukka's education as an agricultural technician and Ville's as a Master of Science make sure that there's plenty of know-how and human capital in the company, something that large projects have been built on for nearly fifty years.