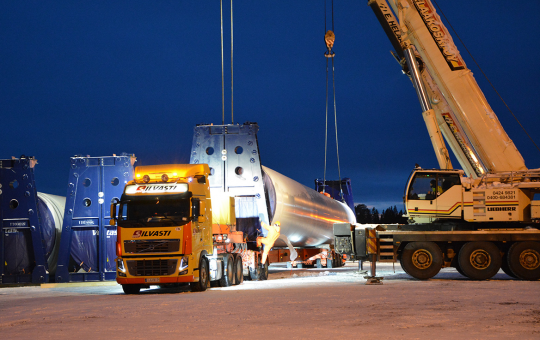 Kimmo Sarvikas
Truck driver
"I joined Silvasti through an acquisition as early as 2002. At that time, the equipment and trucks were smaller, but since then the fleet has been modernized. I have driven all kinds of special transport, for the past year, mainly an adapter (a semi-trailer truck for wind turbine tower segments).
The transports take place at night, so the daily rhythm poses some challenges, as do the demanding conditions, such as dark and slippery winter roads. On the other hand, it's nice to work with quality equipment and see the world a little bit. Once I even got featured in the TV show Occupation: Hero!"
Tip for jobseekers: In this business you need an experimental mindset, humility, a desire to learn, and solid heavy transport driving experience. You'll also need to be ok with being away from home a lot, sometimes for long periods of time.