Jukka Silvasti granted the honorary title of Transport Cousellor: "My principle has been to always say yes to the customer"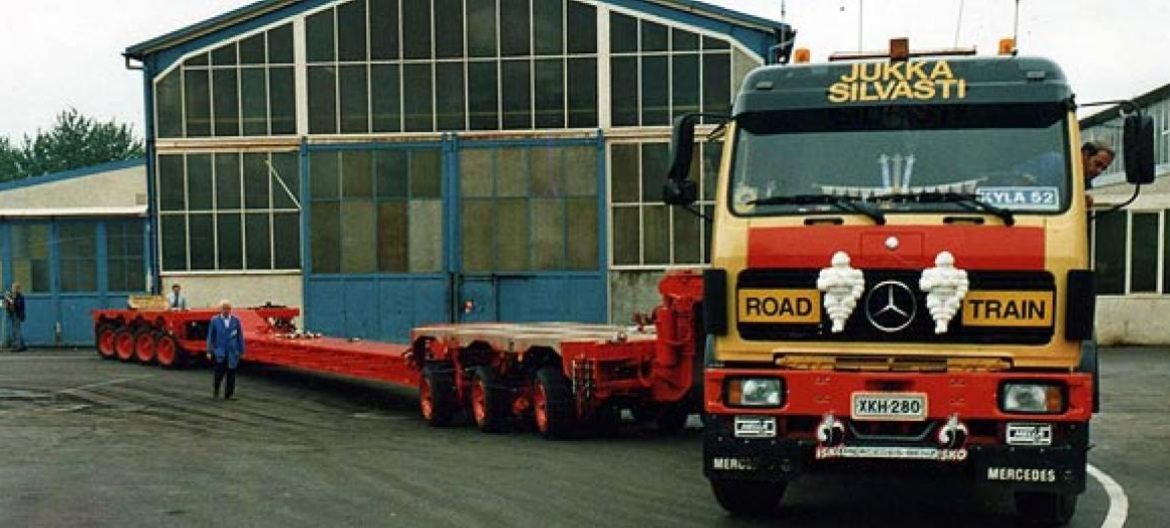 Transport company Ville Silvasti's roots stretch back to the early 1970s, when Ville's father Jukka Silvasti started a company specialising a special transports. In May 2019, the President of the Republic of Finland granted Jukka Silvasti the esteemed and rare honorary title of transport counsellor for his long, illustrious and pioneering career in the field of special transports.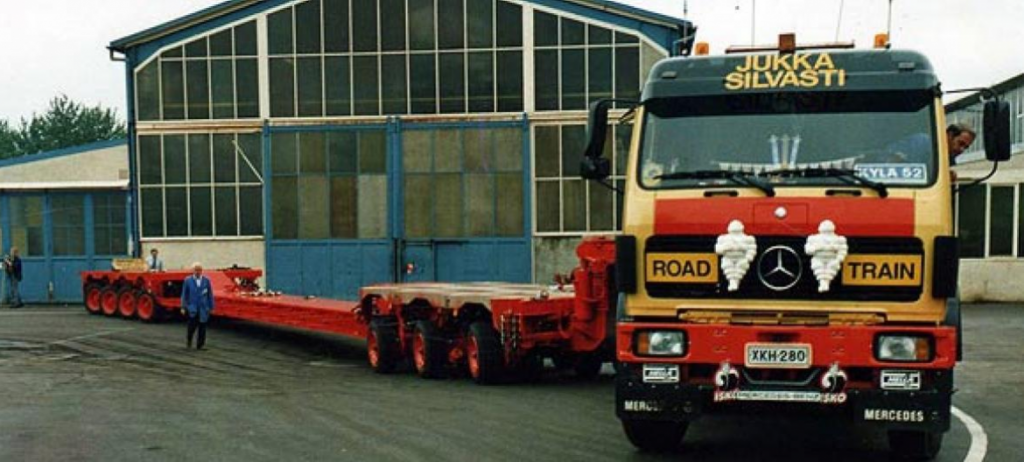 The youngest of three sons, Jukka Silvasti was born in 1946 to a farming family in the municipality of Uurainen in Central Finland. Hoping that Jukka would eventually take over the family farm, his parents soon started building a house for him with this in mind. However, the family's life changed dramatically when Jukka was 14 with the death of his father in an accident, and over time Jukka's plans for the future started changing as well. He ultimately found his calling in the field of transportation: initially as a driving instructor and eventually as a pioneer in Finnish special transports, the Premier League of heavy transports.
"As a young man, I first studied to become an agricultural technician, but this type of work just didn't grab me. One day, when I was keeping myself busy at the workshop, I heard Ensio Itkonen's traffic education programme on the radio and got the idea of becoming a driving instructor. So that's what I first started to pursue."
His work as a driving instructor took Jukka to Helsinki to work under the very same Ensio Itkonen, who had already become a legend in Finnish traffic education by then. Jukka's teaching methods and calm country boy demeanour garnered praise, and according to him, his assigned students started to consist particularly of older women. However, working as a driving instructor simply did not offer enough future prospects for the ambitious Jukka. There had to be something else out there for him.
An age of busy transports
"The 1970s saw the establishment of a concrete element factory in Uurainen, which manufactured long beams. It occurred to me that the factory would need someone to transport them. So I decided to take out a loan to buy a truck and hire a driver, with whom we started transporting the beams. Our operations began to grow almost by accident when I started buying transport permits from local drivers who were no longer active."
There have been some happy accidents along the way as well.
"I was hired for a transport project involving the transportation of rails to Kostomuksha in the Soviet Union. Surprisingly this turned out to be a very lucrative venture, for which there wasn't much competition either. It provided me with the capital to expand our operations."
The company started growing under its own steam: there was demand to which the company responded.
"My principle has been to always say yes to customers. Sometimes we've gotten into some tight spots because of this, but luckily our network has included some good cooperation partners, such as Raitio Transport & Assistance in Nastola and Kuljetusneliö in Tampere. We helped each other out, got enough work for everyone and simply got things done."
Corporate acquisitions as turning points
One of the major turning points in Jukka's career occurred in the late 1980s, when he accepted a takeover bid from John Nurminen Oy. As a result, the Silvasti transport company was taken over by Nurminen, but, rather unusually, continued to operate under Jukka Silvasti's name.
"Our reputation in the field was good and we were well-known. Even so, it did take a long time to convince Nurminen why this was the way to go, but eventually they saw things my way. I worked at Nurminen for 10 years as the managing director of their special transports division, until I had to give up the position due to health reasons, namely worsening arthritis."
The next major turning point occurred in the early 2000s, at which point Jukka's son Ville had completed his studies and was working at Metso in logistics.
"One day Ville came to me and said we're starting a transport business. He had noticed a transport company for sale in Alavus, which we decided to make a bid on. Ville got the business up and running and I got back into the groove again as well. The funny thing is that once we went into business, my arthritis symptoms vanished and I haven't needed any medication for them since!"
Things came full circle for Jukka in 2015 when Transport Company Ville Silvasti acquired the special transport operations of Nurminen Logistics Oyj. You could go as far as to describe this as the company coming home and returning to the fold.
Developing the sector with all the cards on the table
Jukka has contributed actively to the development of the transport sector in numerous ways, including by serving as an instructor for Finnish Transport and Logistics SKAL for many years. He has also followed the international development of the special transports industry and provided Finnish operators with information on the latest transport hardware, for example.
"I've always wanted to lay my cards on the table and share information with others. Turku-based Kalervo Nieminen and I were pioneers in special transports, and I feel that sharing our expertise was in the best interest of the entire sector and Finland."
Looking at the ways in which the special transports industry has changed in recent decades, one thing becomes abundantly clear. You can't make it in this industry anymore without specialist expertise.
"Whether you're talking about transporting milk or whatever, you have to have a clear leading idea behind it. You need specialised hardware and the skills to use it. Otherwise you've got no future in this industry."
Jukka has also nursed a desire to participate in building Finnish society through municipal politics. To this end he served eight years as the chairman of the municipal council of Uurainen.
"I'm happy that during my term as chairman I saw the preparation of a comprehensive shore plan for Uurainen and the construction of an illuminated ski track and running path around the lake located in the municipal centre. Their positive impact on residents' health will be felt for a long time to come."
Work and a healthy lifestyle as the cornerstones of life
Jukka Silvasti was awarded the honorary title of transport counsellor for his notable contributions to Finnish society and the transportation industry. The group that proposed the title is broad, including Finnish Transport and Logistics SKAL, the Finnish Chambers of Commerce and the municipality of Uurainen, among others.
"I am very flattered that you can receive this kind of acknowledgement through sheer hard work, without having much of an education. It shows that persistent work is appreciated, which warms my heart."
From his childhood home, Jukka inherited principles that he has followed and carried with him to this day.
"One thing I learned from home is economic thinking. We were always told that you had to live frugally and cut one's coat according to one's cloth. And that's exactly what I've done, though I have to admit that sometimes I've gone a bit too far when it comes to frugality. Another principle that I learned from home was sobriety. My father was a teetotaller, and I've never consumed alcohol either."
Taking care of one's health and fitness training are close to Jukka's heart in other ways as well. For him, the importance of staying healthy has only grown over time.
"I am of the opinion that if you intend to be an entrepreneur, you have to exercise and take care of your health. For me, running has always been a dear hobby, and I've run 50 marathons. Nowadays I've given up running for swimming and Nordic walking, but daily exercise is still an important part of my routine."
Jukka finds joy in other hobbies as well, such as cheering on his son Ville in motor sports. In addition to this, Jukka sits on the board of the Silvasti family business, thus retaining a feel for the world of special transports as well.
When asked what kind of headline he would like to read about the Silvasti transport business in 10 years' time, he thinks for a moment and then answers:
"Surely something like Silvasti being number one in special transports in northern Europe."
It's not that hard to believe that we'll actually see such headlines in the future, as the goal has almost been achieved already.