A Groundbraking clamp set innovation for wind power transports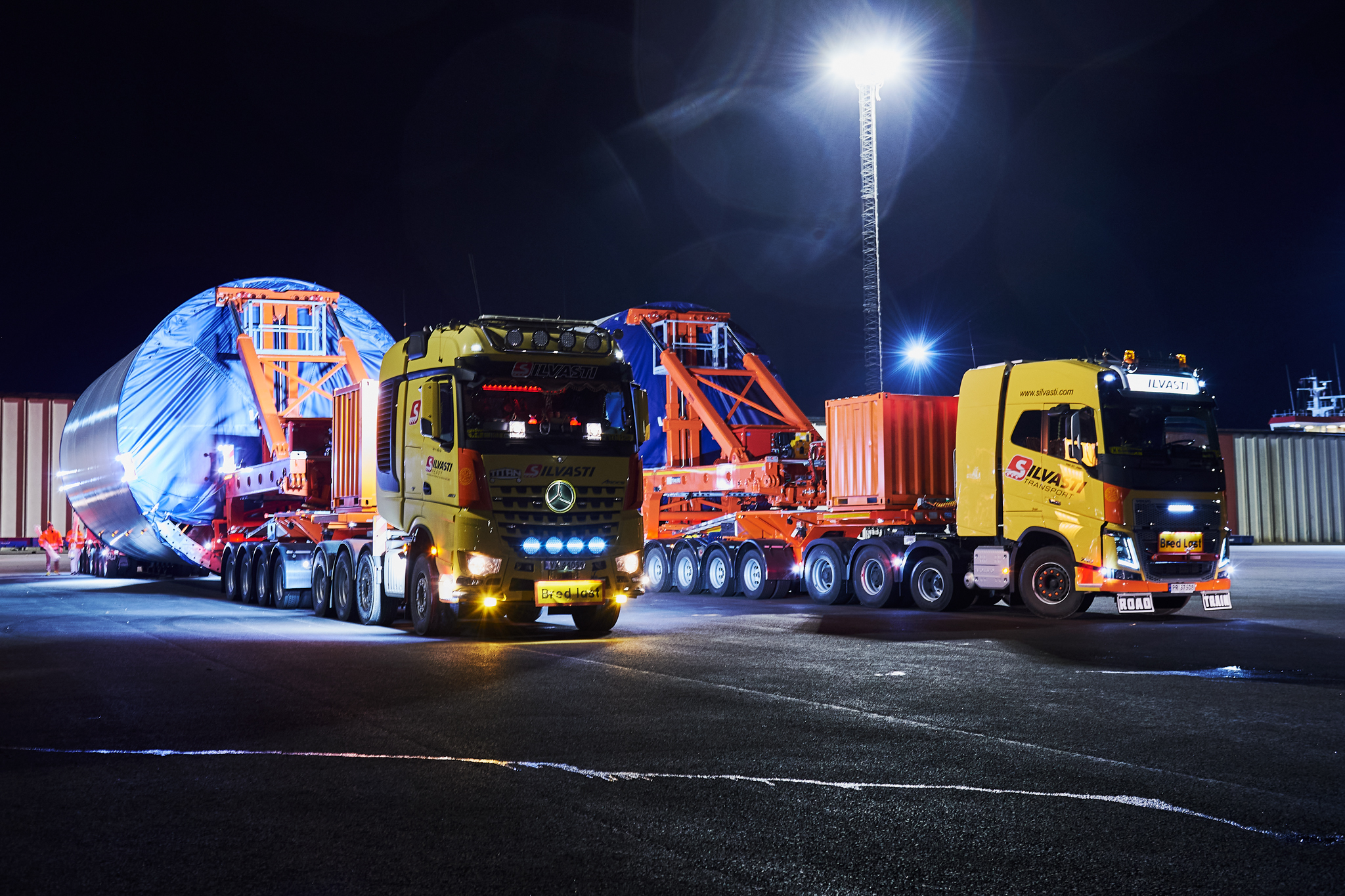 Silvasti and Luxtrailers joined forces in a quest for safer transports of wind turbine tower sections in difficult conditions. Created new clamp trailers.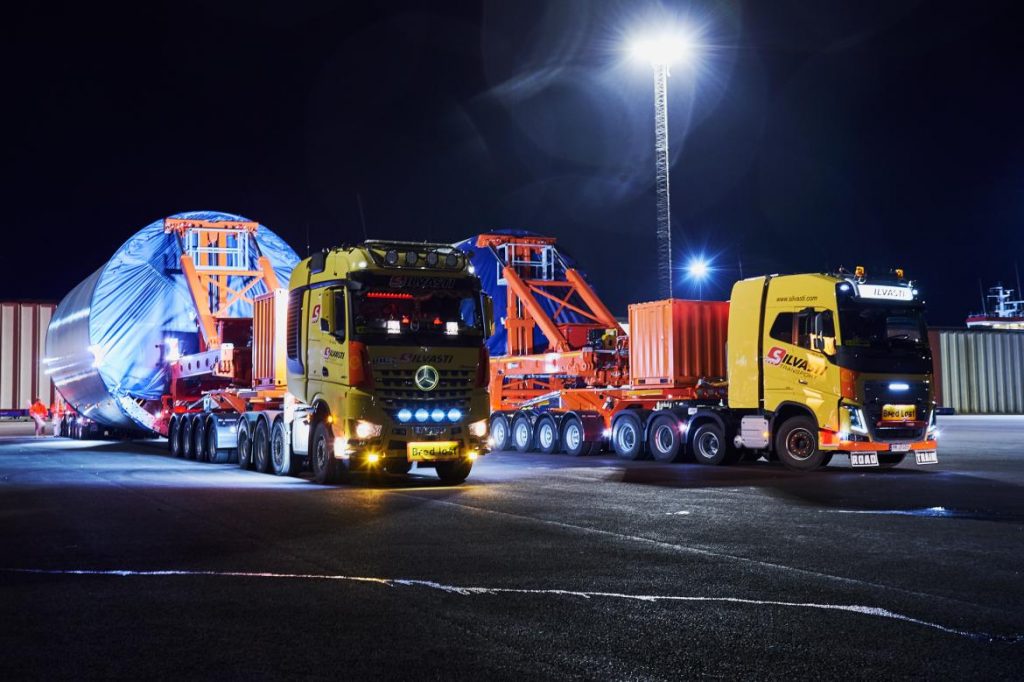 Technological progress is, generally speaking, a good thing, not least so in power production. For example, windmills have grown immensely in both capacity and size over the past ten years, generating renewable energy in an increasingly cost-effective way.
This progress has, however, brought new challlenges for certain links in the value chain – the transporters of wind power components. Ten years ago, the diameter of a typical tower section was around 4 metres; today, the diameter of the largest ones far exceeds 6 metres.
The trailer specifications used by companies such as Silvasti have not evolved at the same pace. This makes the transports of the new components increasingly unstable and potentially less safe.
This is something the Silvasti teams have experienced first-hand. When you are hauling a 100-ton tower section on a winter night, at -20C degrees on a pitch-black dirt road on an arctic hill slope, you want to be sure your cargo is secure.
That is why in late 2019, Ville Silvasti contacted Rainer Sasse, the CSO of Luxtrailers, a Luxemburg-based provider of heavy transport equipment, to investigate the trailer market for technical solutions that would allow safe and easy handling of large tower blocks in rough northern conditions.
The project started with fieldwork. "We visited wind parks, interviewing the transport teams and getting first-hand information on the difficulties on-site", Rainer says. "We soon realized there was nothing available in the market, or even in development, that would meet Silvasti's requirements".
"As a result, we decided to purchase the components from different manufacturers and manage the interfaces and cooperation between them. The challenge was to coordinate between three major manufacturers for the specification of the interface, the assembly of the complete set, the testing, and the homologation", Rainer explains.
Over the course of 2020, the concept of a next-generation clamp set began to take shape. It involved creating a super rigid structure that would stabilize the entire trailer combination, while also defining areas where kinetic energy could be safely released.
These goals were achieved with a new type of pendulum with wider track and an active, hydraulic damping and stabilization system on the front bolsters. Also, thanks to the new clamps, the total height in transports of 6.5 m diameter towers can be kept under 7 metres – a critical height in some countries such as Finland. This means there will be significantly less need for road modifications and for dismantling traffic portals or other overhead obstacles.
The concept showed great promise in tests and calculations. Finally, in late September 2021, it was time to put the new clamp sets to a real- world test: transporting two 80-ton tower sections from the port of Piteå to the construction site in northern Sweden. The sections were 14.5 and 18.8 m long with diameters up to 6.3 m. The total distance of 150 km was successfully covered in six hours.
Feedback from the transport crew was enthusiastic: stability and safety were far better than before, sideways tilting was minimal, and overall, the clamp adapter behaved better on a bumpy road. Both Rainer Sasse and Ville Silvasti share their enthusiasm.
"This is a revolutionary development in wind power transports. We are proud to be able to significantly improve transport safety for both our team and our customers", Ville rejoices.
More about Luxtrailers Sàrl: https://www.linkedin.com/company/luxtrailers/about/