Scheduled railway power cut during 138tn transformer transportation to Northern Lapland
Year of Publication:
Categories:
Jacking and skidding

|

Special transport

|
Silvasti Heavy Ltd was assigned to transport one 138 ton transformer from Kalajoki to Vajukoski hydropower plant at Sodankylä, Northern Lapland.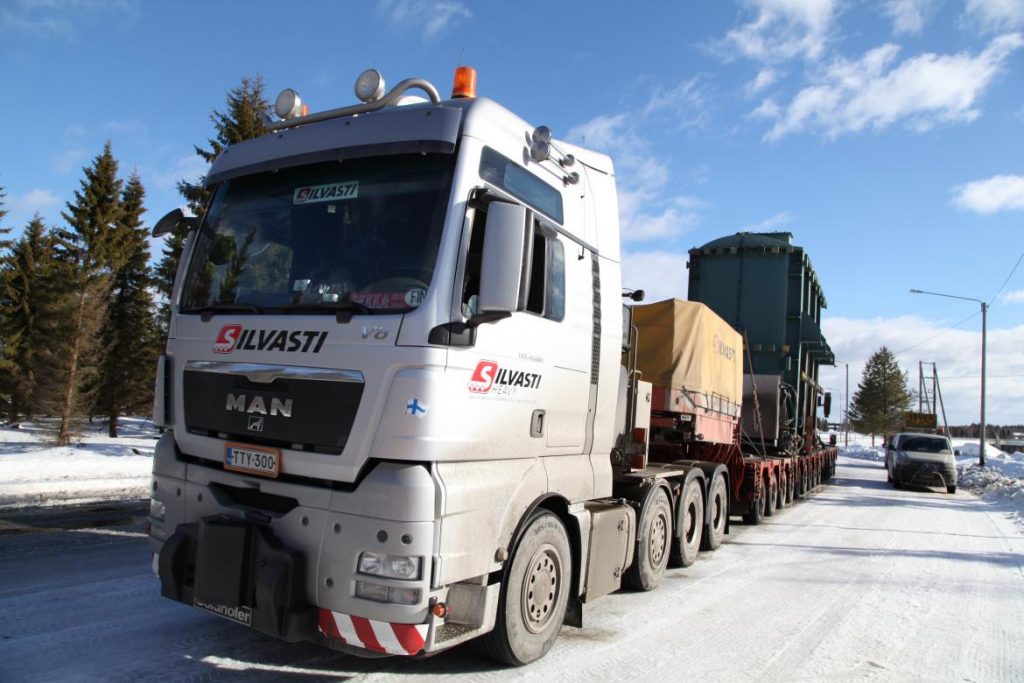 The project scope included loading of the trafo at Kalajoki and also placing it onto its new location at Vajukoski plus transports of other trafo components onto three scheduled truckloads. The distance between these main substations is over 500 km even using the shortest route. As a normal procedure every person arriving to the substation areas had to pass a special safety training course in advance.
Due to the long transport distance the total weight and height of the transportation were the keywords for smooth and safe operations. The road transport loading and unloading operations were handled by Silvasti and completed by Silvasti's professional team using equipment and procedures tailor made for handling of heavy transformers. These operations took only a few hours at each end after thoroughly planning and engineering.
Many bridges on route were near to maximum limit of the carrying capacity so every ton of total weight had to be minimized. Due to challenging dimensions of the transport, the Silvasti team had to drive on the motorway in opposite directions with police escorts and pass through rushy center corners of the larger towns of Oulu, Kemi and Rovaniemi. The transport had to pass also the Finnish main railway line. On this railway junction there was demanded power cut and temporary removal of electric railway power cables. Due to this operation schedule the entire transportation had to be synchronized according to the railway scheduling and arrival to this junction any later than agreed would have caused demurrage of weeks.
Among these arrangements Silvasti coordinated and completed removals and re-installations of numerous overhead traffic sign portals and overhead lines en route.
A combined 15 road bridges had to be passed under control of the road authority present on each location. As an exceptional permit condition deflection of one road bridge had to be measured in millimetres during transportation as required by the main traffic authority. Another exceptional condition of the transport permit was to provide weighing of the loaded vehicle to ensure that two critical bridges not to be overloaded. Silvasti crew weighed the loaded vehicle with the company?s own mobile scaling equipment so the transport could start and proceed in time.