Through thick and thin in Swedish Lapland
Year of Publication:
Categories:
Ideally, logistics is a straightforward business: you pick up cargo at point A and haul it to point B. However, in heavy oversized transport projects, this is rarely the case. In special transport business there are literally, and figuratively so many moving parts to consider that surprises and changes of plan are almost inevitable.
For Silvasti, a recent wind power transport project in Sweden was a particular case in point. Åsele is a small municipality in the province of Västerbotten in northern Sweden. 2018 brought a new buzz to the quiet region. During the year construction work began on a new wind farm called Blakliden Fäbodberget. The wind farm consists of 50 turbines in the Blakliden nature reserve and 34 turbines in Fäbodberget.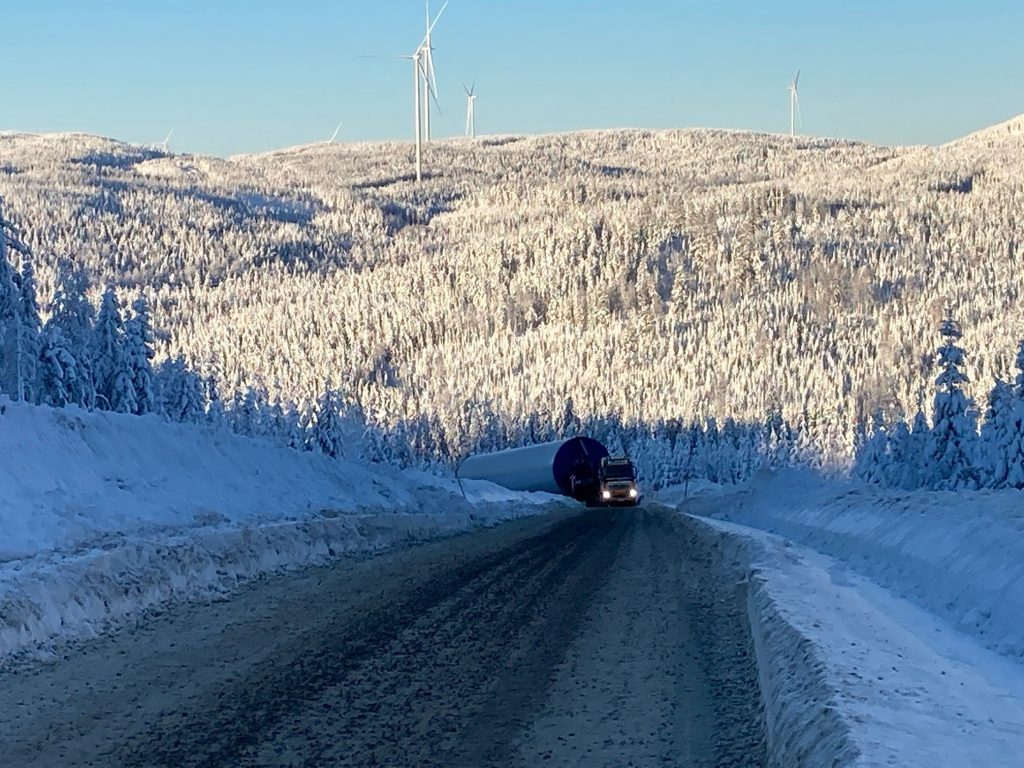 The transports for the turbine parts were scheduled to be completed in 25 week. In 14 weeks for Blakliden, and 11 weeks for Fäbodberget. The route from the Port of Holmsund to the two sites was more than 100 kilometres. The route was relatively smooth sailing until the last stretch.
"The last 8–10 km were soft bog land. And the gravel roads had been built on it some 60 years ago on wooden piles. Those roads had never been exposed to such weights. The ground was vibrating under the trucks. This caused that everyone was afraid the road would collapse", recalls Heino Nørager-Kristensen, Project Manager at Silvasti.
This meant that some special arrangements had to be made. Instead of driving directly to the site, each truck would have to stop at a designated parking area. This was several kilometres away. From there onwards, the transports were carefully paced for security.
"We had to keep a one-hour interval between each transport, and two hours for the heaviest ones. You can imagine that this became a major logistic puzzle. While trying to coordinate what components go to which site and when", Heino says.
"And to make things more complicated, this was not all. Some of the roads got in such a bad condition that the team needed to find a new route. And this happened not once but twice!"
Road conditions were not the only thing giving grey hair to the transport team. Some of the vessels arriving at Port of Holmsund were delayed a lot. By as many as 30 days due to COVID restrictions in the country of departure. At times, some components would be missing at the port. The Silvasti team was forced to take a two-week break in the middle of the project.
Time went by and autumn turned to winter. This was making the challenging conditions ever more difficult with snow, ice, and short daylight hours. Finally, about a week before Christmas 2021, the road part of the project was completed. The site work continued until early February 2022.
Despite all the hardships and several months of delays, Heino Nørager-Kristensen considers the Blakliden Fäbodberget project a great success.
"This was one of the largest onshore projects for Silvasti in Sweden. It consisted 840 heavy loads and more than a hundred guys during the busiest period. Never in my 15 years in this business have I faced this many obstacles and challenges in a project. Despite all that, I am glad to say that all parties involved were happy with our performance. And we all learned a lot!"
BLAKLIDEN
FÄBODBERGET
WIND FARM
• 50 + 34 Vestas V136 turbines
• Hub height 112 m
• Total height 180 m
• Projected annual
production 1,1 TWh